Ingredients Needed for Sack Lunches
Note: Please scroll down to the form on this page, to fill it out, indicating which items you plan to donate.
---
 Brown paper lunch bags

Plastic spoons or sporks

Paper Napkins

Drink pouches of juice

Small water bottles

Small cocktail sausages in flip top can

Protein bars
Snack bars

Tuna pouches 

Individual applesauce containers

Individual pork and beans in a flip top can

Individual packages of peanut butter/cheese and crackers

Small candy bars

Individual packages of cookies

pudding cups

fruit cups

Nonperishable, easy-to-open single serve items. 
Sack Lunches for Hungry People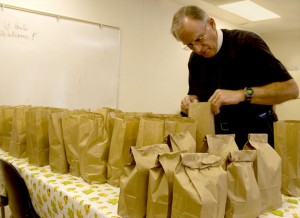 Members and friends of St. Paul's donate enough food to fill more than 200 sack lunches each month. Those who are hungry may come to the Parish Hall following weekday noontime services to request a lunch. Lunches are free. Blessings go with them.
---